An Estate Sale of Seven Slaves
While researching estate records, I found these two documents that describe a group of negro slaves that were sold as part of the estate of Elizabeth Williams of Iredell County, North Carolina, in 1864.
The two records of interest here are the petition to the court requesting a partition sale and the record describing proceeds from the sale.
An excerpt from the first record gives names and ages of the seven slaves.
as admr of E Williams has in his possession the following
slaves [First?] solomon 24 years of age Flora 20 years old
Cate 46 years old Mary 16 years old Amos 14 years Hial
12 years Paris 4 years old

The second record (image and transcription below) lists the new owners and the prices they paid.
A Summary of the Sale of These Seven Negro Slaves
Shown here, the names of the enslaved persons, their ages, and their new owners' names:
Kate (or Cate), age 46, to Alexander Williams
Solomon, age 24, to J.W. Redman
Flora, age 20, to Francis Williams
Mary, age 16, to Amena Robeson
Amos, age 14, to Marandy Stephenson
Hial, age 12, to R. Speaks
Paris, age 4, with Kate to Alexander Williams
---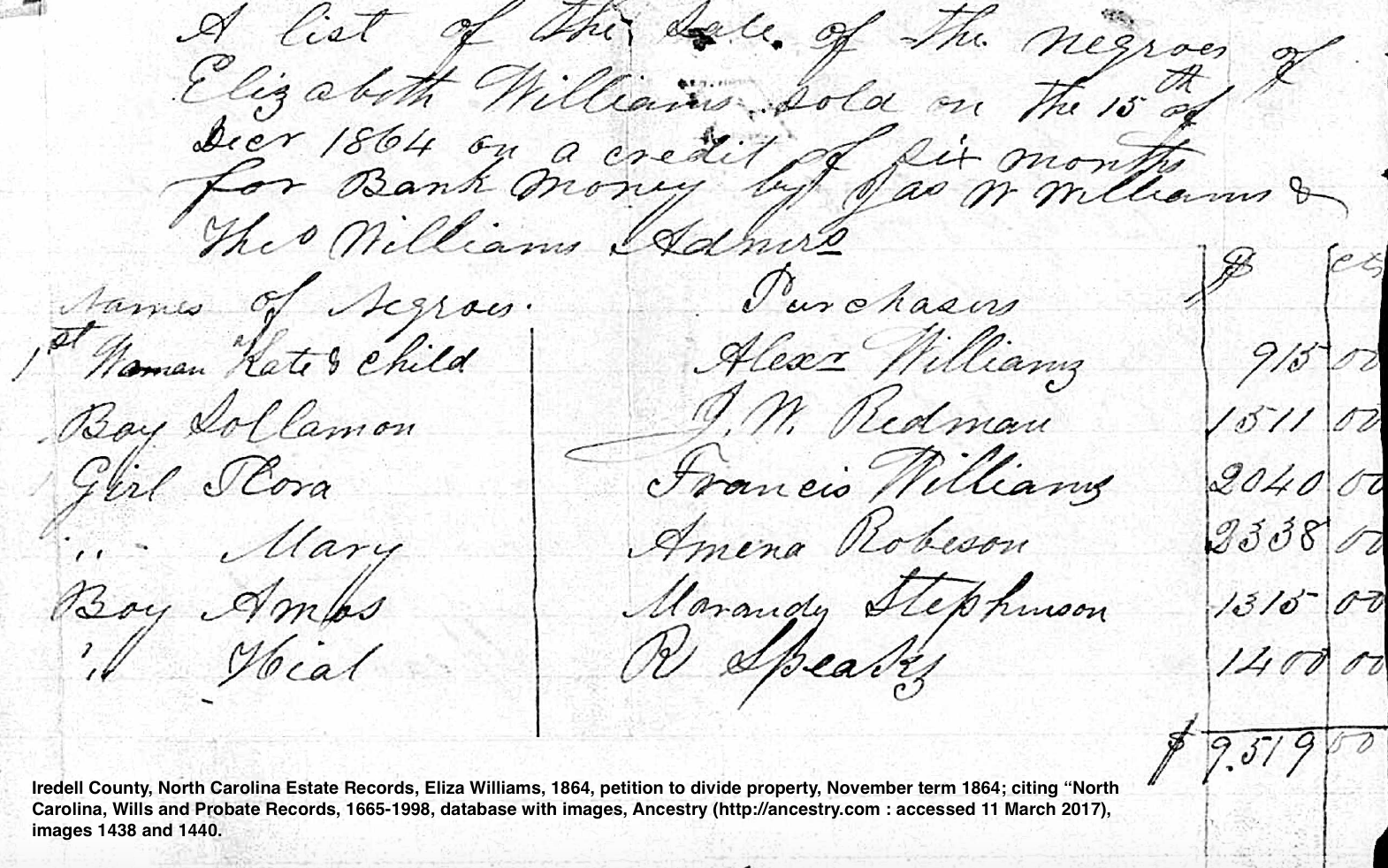 Transcription of the Sale List of the Negroes
A list of the sale of the negroes of
Elizabeth Williams sold on the 15th of
Decr 1864 on a credit of six months
for Bank Money by Jas W Williams &
Theo Williams Admrs

Names of Negroes Purchasers $ cts
1st Woman Kate & child [Paris] Alexr Williams $915.00
Boy Sollamon J. W. Redman $1511.00
Girl Flora Francis Williams $2040.00
" Mary Amena Robeson $2338.00
Boy Amos Marandy Stephenson $1315.00
" Hial R Speaks $1400.00
$9.519.00